Discussion Starter
·
#1
·
Well, had to do some errands in town today, and decided to try out a few new loads with the rifles - the range in Grand Rapids is 200yds, which is the distance I like to sight in at.
First up is a 260 rem, did some load developing earlier and found this load - but wanted to try it out again just to verify that it grouped as good second time around - found it with OCW gig, which makes me a believer in that method! 44gr h4350, lapua 123 scenarios...say no more!
2nd up was my new/old gun, an older m70 action that was turned into an exotic build - Manners t5 stock, m70 action, and Shilen 5.5 match barrel, 325 wsm caliber - am just starting the development/barrel break in on this beast, so stay tuned!!! This round was 62gr h4350 with a 200 NAB, just above the min book load...
Here is the range, setting up the 260...
then I just about shit when I walked up to the target - I could see that they were close thru the scope, but was smiling from ear to ear when I got close and saw with my own eyes! Thats a 5 shot, 200yd group! the one 'flyer' must have been shot the instant that mosquito bit me...lol!
Then it was Mr 325's turn - here is the beast - the loads were on the light side, but they still let you know that this was a big gun...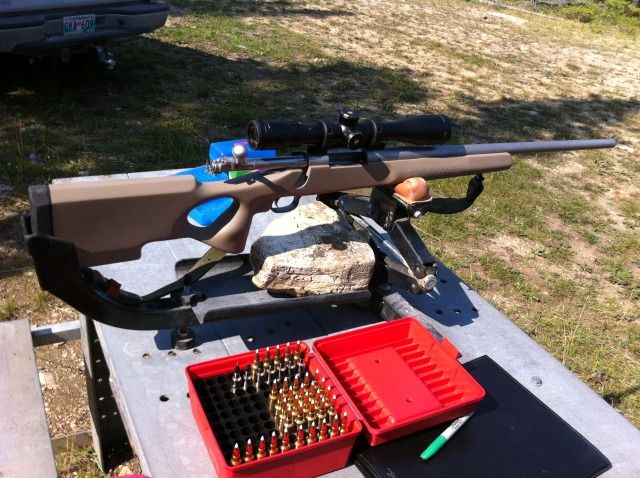 for the start of load development, this looks promising - again, 5 shots, 200yds
That was my afternoon!