Discussion Starter
·
#1
·
Well, I sit here this morn with a big smile on my face!
Yesterday, moose opener up here, we did our chores around the lodge until mid afternoon and decided to get out to our Moose area and set up a trail cam, try some calling, and just get the first hunt jitters out of our system -
It is a walk in to this spot, about a mile from the lake shore - My gal Cindy, was all jazzed up as she missed a bull in this same spot last year - we trudged thru, got to the area only to see minimal sign - we sat and called, and called, with no response - other than a wolf... as the sun was kissing the horizon, I decided we should go to the lakeshore and look in the mud to see if there are tracks - and of course call a bit till dark...
Down we went, about 200yds from our first spot - hit the mud, and there were tracks everywhere.... I let out a cow call and wasnt halfway thru it when we heard a very loud MWAHH right back at us - we paused, waited a few secs, then again - MWAHH - very close - all of a sudden, 20yds in front of us, the willows erupted and out comes this bull, pissed right off, and looking right at us - Cindy had her gun up with a solid poplar tree as a rest - all I heard was "Holy Crap" and "OMG" then the little Tikka 7mm-08 with a 140gr NAB went BANG!....
The Moose veered around, started running away, then turned back at us and fell on its side - 10yds from where we saw it! A nice 40" bull!
It seems as tho all that practise finally paid off - one shot, dead moose - upon autopsy, (moose was quartering towards us) the bullet went in ahead of the front shoulder on one side, and exited just behind the other shoulder... bullet passed right thru the heart!
We gutted and tarped it up last eve, with the plan to head back today and haul it out.... anyone want to help???? As happy as I am right now, in 12 hours I know I will be hating life!
Anyhow, good luck to the rest of you, after 6 years of hunting these, this is my / our first (conservation tag)!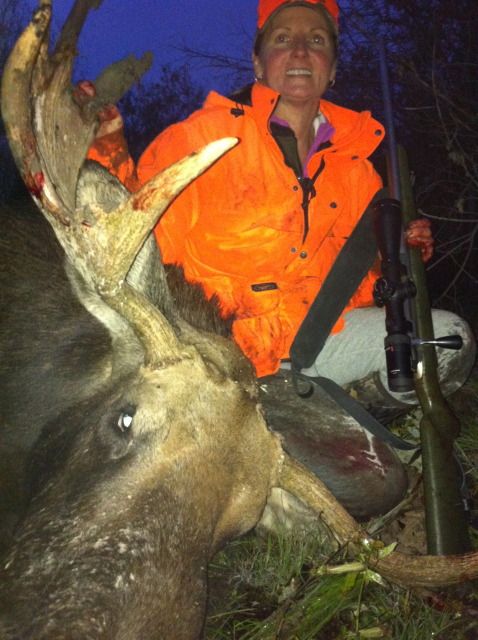 Here is a pic of the bullet hole right thru the heart!